The Diary of a Young Girl – Anne Frank #ClassicsChallenge2016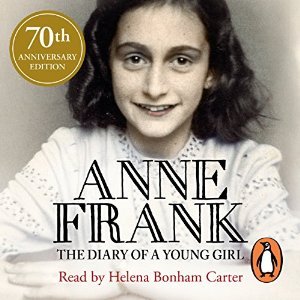 Image from Goodreads
I chose to read The Diary of a Young Girl by Anne Frank as my January Classics Challenge book (Read 15th – 26th Jan 2016). I actually listened to the audiobook of the 70th anniversary edition which was read by Helena Bonham Carter who was an excellent narrator.
I'm going to structure this post by answering the questions that Stacey suggests.
WHEN I Discovered This Classic
I've known about this book at least since my early teens, if not before.
…
WHY I Chose to Read It
Because despite knowing about it for around 20 years I hadn't read it already. World War II and the treatment of Jews in the Holocaust is a topic that is so important to be aware of. I find having a personal story to connect to these bigger events useful. If I ever visit Amsterdam I would want to visit the house so knowing the full story would make that experience more insightful.
…
WHAT Makes It A Classic
As I've written above, this is a human story that connects us to a great atrocity. Reading the diary of a girl who we know dies in tragic circumstances adds a certain sense of poignancy to what she writes.
… 
WHAT I Thought of This Classic
This is what I wrote immediately on finishing the book – "It wasn't quite what I was expecting, in a way that made it better."
I guess going into this I expected Anne to write more about the war, but, although aspects of this are highlighted the focus is the thoughts and experiences of a fairly typical teenage girl in non-typical circumstances.
Anne, her family, and some other Jews hid in a secret annex in a warehouse from July 1942 until August 1944 when they were discovered by the Nazis and taken to camps. Anne comments on the circumstances leading to the decision to go into hiding, the personalities and relationships between everyone in the annexe, the food they ate, clothes, birthday presents (life went on), the help they got from those who hid them, what she was learning and thoughts about books she read – she'd be a book blogger in today's world.
I immediately connected with Anne on a personal level – she was a writer and aspiring novelist. She was also pretty witty, and bitchy, much like the narrators in modern young adult literature. She was a deep thinker and constantly trying to discover and 'better' herself. Most importantly though she wasn't perfect, she was flawed and says some fairly mean things at times. We see her development across those two years, as well as hints at a growing romance that was never to come to fruition.
The closing comment in the diary definitely bought a tear or two to my eye. I won't spoil it though, it's more important for you to come to that end on your own.
Rating – 5 stars

WILL It Stay A Classic
As long as war continues to be a problem and people are affected by it, this will remain a classic, so yes. It will definitely be a book I listen to again.
It is a classic 'Young Adult' book that deals with finding one's identity.

WHO I'd Recommend It To
Everyone. In particular I think it would speak to young girls, Anne talks about boys, periods, her relationship with her family – siblings and parents and generally about everything that interests her.
Quote I highlighted
"Paper has more patience than people."
Further Reading
I've purchased this book of stories (including an unfinished novel) and essays written by Anne. Will be interested to see how it lives up to the diary.
United States Holocaust Memorial Museum has a mini site dedicated to Anne as a writer.
Anne Frank Fonds – founded by Otto Frank her father
Have you read – The Diary of a Young Girl – what did you think?