Search Results for
young adult
Earlier this year I got to read Sky in the Deep which I reviewed here. As you can see I was a fan so I jumped at the chance to read the companion novel The Girl the Sea Gave Back.
I also got to meet Adrienne at YALC this year. She was lovely and I got both my books signed.
The Girl the Sea Gave Back is set in the same world ten years later With familiar characters grown and new characters joining them to threaten the peace if you enjoyed Sky in the Deep dive in without hesitation.
Summary
For as long as she can remember, Tova has lived among the Svell, The people who found her washed ashore as a child and use her for her gift as a Truthtongue. Her own home and clan are long-faded memories, but the sacred symbols and staves inked over every inch of her skin mark her as one who can cast the run stones and see into the future. She has found a fragile place among those who fear her, but when two clans to the east bury their age-old blood feud and join together as one, her world is dangerously close to collapse.
For the first time in generations, the leaders of the Svell are divided. Should they maintain peace or go to war with allied clans to protect their newfound power? And when their chieftain looks to Tova to cast the stones, she sets into motion a series of events that will not only change the landscape of the mainland forever but will give her something she believed she could never have again – a home.
Huge shout out to the cover designer for another stunning book.
Author
ADRIENNE YOUNG is a born and bred Texan turned California girl. She is a foodie with a deep love of history and travel and a shameless addiction to coffee.
What I Thought
It's always interesting to see what happens after a happily ever after. War is over – or is it? The world was one of the things I loved most about the first book with it being something fresh. The almost simplicity of its brutality with fighting being about survival gives rise to an ability to truly focus on the characters and their relationships. The quiet moments in contrast to war is a theme that is further explored here.
Companion novels are funny beasts especially when you've grown so invested in the main characters of the first book to have them not be the main focus. Like meeting new friends in real life, you don't forget what or who has come before but assimilate them into your world. Fiske and Eelyn from Sky in the Deep do appear and Halvard we met as a young boy. Tova and her community are new to us and the additional aspect of her being an outcast within her own tribe meant there was a twist on this not being a straight replay of the first book.
Universality in young adult stories in providing commentary relevant to our current world is what brings me back to books aimed at teens. Age is but a number and any fantasy fans should enjoy this. As long as you like a side of romance.
I also love it when you know how the book gets its title and in the Prologue we get the answer straight away. The question we are left with is why?
I'm not sure if there will be more stories told in this world but I am enough of a fan of Adrienne's writing to follow her back or forth to new worlds.
Do check out the rest of the tour stops.
Thank you to Titan for my gifted copy of the book for the purposes of an honest review.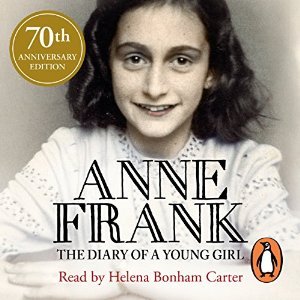 Image from Goodreads
I chose to read The Diary of a Young Girl by Anne Frank as my January Classics Challenge book (Read 15th – 26th Jan 2016). I actually listened to the audiobook of the 70th anniversary edition which was read by Helena Bonham Carter who was an excellent narrator.
I'm going to structure this post by answering the questions that Stacey suggests.
WHEN I Discovered This Classic
I've known about this book at least since my early teens, if not before.
…
WHY I Chose to Read It
Because despite knowing about it for around 20 years I hadn't read it already. World War II and the treatment of Jews in the Holocaust is a topic that is so important to be aware of. I find having a personal story to connect to these bigger events useful. If I ever visit Amsterdam I would want to visit the house so knowing the full story would make that experience more insightful.
…
WHAT Makes It A Classic
As I've written above, this is a human story that connects us to a great atrocity. Reading the diary of a girl who we know dies in tragic circumstances adds a certain sense of poignancy to what she writes.
… 
WHAT I Thought of This Classic
This is what I wrote immediately on finishing the book – "It wasn't quite what I was expecting, in a way that made it better."
I guess going into this I expected Anne to write more about the war, but, although aspects of this are highlighted the focus is the thoughts and experiences of a fairly typical teenage girl in non-typical circumstances.
Anne, her family, and some other Jews hid in a secret annex in a warehouse from July 1942 until August 1944 when they were discovered by the Nazis and taken to camps. Anne comments on the circumstances leading to the decision to go into hiding, the personalities and relationships between everyone in the annexe, the food they ate, clothes, birthday presents (life went on), the help they got from those who hid them, what she was learning and thoughts about books she read – she'd be a book blogger in today's world.
I immediately connected with Anne on a personal level – she was a writer and aspiring novelist. She was also pretty witty, and bitchy, much like the narrators in modern young adult literature. She was a deep thinker and constantly trying to discover and 'better' herself. Most importantly though she wasn't perfect, she was flawed and says some fairly mean things at times. We see her development across those two years, as well as hints at a growing romance that was never to come to fruition.
The closing comment in the diary definitely bought a tear or two to my eye. I won't spoil it though, it's more important for you to come to that end on your own.
Rating – 5 stars

WILL It Stay A Classic
As long as war continues to be a problem and people are affected by it, this will remain a classic, so yes. It will definitely be a book I listen to again.
It is a classic 'Young Adult' book that deals with finding one's identity.

WHO I'd Recommend It To
Everyone. In particular I think it would speak to young girls, Anne talks about boys, periods, her relationship with her family – siblings and parents and generally about everything that interests her.
Quote I highlighted
"Paper has more patience than people."
Further Reading
I've purchased this book of stories (including an unfinished novel) and essays written by Anne. Will be interested to see how it lives up to the diary.
United States Holocaust Memorial Museum has a mini site dedicated to Anne as a writer.
Anne Frank Fonds – founded by Otto Frank her father
Have you read – The Diary of a Young Girl – what did you think?
About the Book
From the author of One of Us Is Lying comes a brand new addictive thriller.

Ivy, Mateo and Cal used to be close – best friends back in middle school.

Now all they have in common is a bad day. So for old time's sake they skip school together – one last time.

But when the trio spot Brian 'Boney' Mahoney ditching class too, they follow him – right into a murder scene.

They all have a connection to the victim. And they're ALL hiding something.

When their day of freedom turns deadly, it's only a matter of time before the truth comes out . . .

It's Ferris Bueller's Day Off with murder, perfect for fans of One Of Us Is Lying and A Good Girl's Guide To Murder. This explosive new thriller is impossible to put down.



About the Author
Karen M. McManus is the #1 New York Times and international bestselling author of young adult thriller/mystery novels, including One of Us Is Lying, One of Us Is Next, Two Can Keep a Secret, and The Cousins. You'll Be the Death of Me will be her next novel, publishing December 2021. Her work has been translated into more than 40 languages worldwide. Karen lives in Massachusetts and holds a master's degree in Journalism from Northeastern University, which she mostly uses to draft fake news stories for her novels. For more information, visit www.karenmcmanus.com or @writerkmc on Twitter and Instagram.
What I Thought

Karen M. McManus certainly knows how to write a thriller. I love the film Ferris Bueller's Day Off and her previous books so was excited to join the tour to see how they combined in You'll Be the Death of Me.

It's told from the points of view of the three protagonists, Ivy, Mateo and Cal who used to be friends when they were younger. We also have have a few sections from their school's YouTube news channel for an external report on events.

Trying to recreate their Greatest Day ever the three skip school and it isn't long before sh*t happens. Adding a deadline for solving the case was genius because it ramped up the tension. Will they work out what happened to "Boney" and get Ivy to her mum's award ceremony in time? That is if they all manage to evade the police.

Re-igniting old crushes, rivalries and wounds this plot was so action packed. Each character has plenty of secrets they want to keep hidden, but does that make one of them a murderer?

🤐 You will have to read to find out.
Thanks to Dave at The Write Reads and Penguin Platform for the gifted e copy for the purposes of an honest review. Check out the rest of the tour stops by following the hashtags #YoullBeTheDeathOfMe #TheWriteReads #UltimateBlogTour.